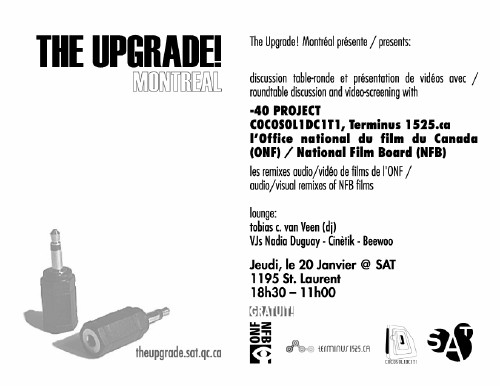 Thursday, the 20th of January, 2005
La Société des arts et technologiques (SAT) – 1195 St. Laurent
A monthly gathering of artists, curators and lovers of new media and digital culture in Montréal. Free ! Proposals for future presentations welcome. Open to everyone.
with :
-40 PROJECT
C0C0S0L1DC1T1, Terminus1525.ca
et l'Office national du film du Canada (ONF)
/ National Film Board (NFB)
Participating: Beewoo, Lucinda Catchlove, Nadia Duguay, Cinétik, Chantal Durand and more tba / et plus…
18h30 : Musique ambiance de tobias c. van Veen (dj)
19h00 : Présentation de -40 Project
20h30 : Table Ronde avec commissaires et artistes
21h30 : Nadia Duguay, Beewoo, Cinètik (vjs) / tobias (dj)
23h00 : Fin !

PDF:
Download the press release with biographies, information, abstracts and the flyer here. /